Middle-grade fiction is one of my favourite genres to read. There are some excellent options for books for the 9-12-year-old market below. And as these books are so beautifully written and superbly crafted, they are wonderful books for adults to read as well!
The art of taxidermy by Sharon Kernot – a historical verse novel set in Australia after the Second World War, this is one of my favourite books for the year. Lottie, from a German family who have lived in Australia for many years, has seen so much death in her life, and wants to bring back the dead creatures she collects on her walks. She tends to their dead bodies with care but her aunt can't abide her interest – it's not suitable for a young lady. Sharon's writing is so lyrical and beautiful, her descriptions of animals sensitive and observant and her Lottie is a unique and compelling character.
How to make a movie in 12 days by Fiona Hardy – eleven-year-old Hayley plans to spend her summer holidays, with her brand-new video camera, finally making the movie she dreamt of making with her recently deceased grandmother. But with friends who aren't always as passionate and committed to her movie as she is, and an unknown person who is making life difficult for her movie career, Hayley has to negotiate family, friends and setbacks. A perfect book for any creative reader who has longed to make something of value – funny and heartwarming.
The girl, the dog and the writer in Rome by Katrina Nannestad – this is the first book in a trilogy – the third one has recently been published. Freja has been sent to live with an unknown friend of her mother's, crime writer Tobias – cheerful, creative and absent-minded. Freja manages to forget her sick mother (sometimes) and has an amazing adventure in Italy. Miss 13 and I have read the first two and I am hoping she will receive the third one in her Christmas stocking so I can read it! Quirky and funny, with a strong plot and loveable characters, this trilogy is well worth reading.
Queen of the sea by Dylan Meconis – written as a comic book, this quite extraordinary story is a historical book about Margaret, who lives on a remote island with the Elysian nuns in the time when King Edmund ruled. Margaret is curious, active and intelligent, and readers view her life in the convent through her eyes. But the outside world of royalty and sailors and prisoners intrudes on Margaret's peaceful life. This is a dynamic story, told in an equally dynamic way through both illustrations and words. it's a beautiful hardback book to keep.
Being Brave by Sema Musson and Hester Leung – Being Brave is about two friends, Ellie and Alyssa, leaning into each other in an Australian adventure about courage and inner strength. Ellie and Alyssa are different in many ways – one chatty, one shy, one adventurous, the other considered, one Australian, one with Chinese heritage. Yet they support each other. Ultimately, their friendship guides them through obstacles and setbacks as they find their way. The story aims to bring out tools that can help children overcome the inner critic to build self-esteem and confidence. Full disclosure – this is a book I edited but I am so happy to include it here!
The list by Patricia Forde – This one is more for 12-14-year-old readers, as the theme of environmental issues may be too complex for younger readers. I recently read The last word, the sequel, and loved it as much as The list, reading just one more chapter each night. It's dystopian fiction, set in a world where words, food and resources are limited and all in the Ark must follow an authoritarian rule. Letta, apprentice to the Wordsmith, is allowed to use more than than the usual 500 words on the list. But her words may not be enough to protect her once she becomes embroiled in a battle with the leaders of the Ark.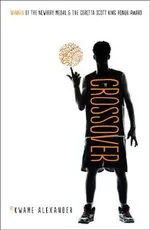 Crossover by Kwame Alexander – I loved, loved this one. I borrowed it from the library but I'll buy my own copy. It's a verse novel, which means the story is told in poems. The character is 12, so be aware that there are older issues here – his twin brother has a girlfriend and his Dad is not well.  The rhythm, language and rhyme – as well as the fabulous plot – really makes this book worthy of the Newberry Medal. Look at this clip where Alexander reads one of his poems – his writing is just as warm and humorous as he is. Imagine opening up your kids' eyes to the possibilities of a story being told in poems, with a thudding basketball rhythm to boot. So awesome!
Sick bay by Nova Weetman – Sick bay tells the story of two grade 6 girls, who don't have much to do with each other at school but end up getting to know each other in the sick bay. Riley has diabetes, Meg relies on breathing in brown paper bags to keep her calm. The story is told from both girls' perspectives in alternating chapters. Meg's mother is not coping very well after Meg's dad's unexpected death. Riley's mum is protective (controlling?) about her daughter's diabetes. Chapter by chapter, the girls edge towards friendship with a few hiccups along the way. For anyone who feels a little different and has tried to hide it, this is a perfect book for 10-12 year-old girls. It's an age for friendship dramas, and the end of grade six is such an important stage. Sick Bay thoughtfully presents a range of characters whom readers will adore.
Catch a falling star by Meg McKinlay – set in 1979, a space station is supposedly falling back to Earth. But this was the space station that launched the night Frankie's dad went missing, so while the rest of Frankie's town is amused or concerned by the space station, Frankie and her younger brother have bigger emotions around Skylab. This book will be loved by young science readers and avid readers alike.
Lenny's book of everything by Karen Foxlee – this was another of my favourites. Lenny's younger brother Davey has a condition where he keeps growing taller and taller. At six years old, he is as tall as a man. Lenny's mother is busy working full-time, being a single mother and keeping Davey in clothes and food. But Lenny and Davey are lucky enough to be given a set of encyclopaedias, to be delivered in instalments month by month, which opens up their world. Heartwarming – grab the tissues for the last chapter!
Happy reading!