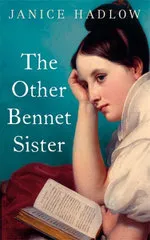 Escaping lockdown life in Melbourne isn't easy – 5k boundaries, permitted worker permits, night curfews. But, my friends, we do have our books!
I have recently escaped lockdown life in Melbourne by immersing myself in Janice Hadlow's novel, The other Bennet sister, published a few months ago. Thanks to my well-read friend Steve for recommending it!
Jane Austen fans, you will know this title refers to Mary Bennet, the sister from Austen's Pride and prejudice given the least amount of page space. Mary has no chance for more space, given she has to compete with her sisters – Jane's beauty, Elizabeth's wit and the silliness of Kitty and Lydia. But now Hadlow has given Mary a book of her own, and gosh, it's a thick one at 655 pages.
Austen wrote one of the most memorable opening sentences in Pride and prejudice – It is a truth universally acknowledged, that a single man in possession of a good fortune, must be in want of a wife.
Hadlow echoes this with her opening line – It is a sad fact of life that if a young woman is unlucky enough to come into the world without expectation, she had better do all she can to ensure she is born beautiful. To be poor and handsome is misfortune enough; but to be penniless and plain is a hard fate indeed.
The other Bennet sister follows the story of Mary, showing her part in the story covered in Pride and prejudice, but then going on to show Mary's life post Elizabeth and Jane's weddings. I found this novel totally absorbing and felt transported back to nineteenth-century England, back to Pemberley, Netherfields, Longbourn and London, and on to the Lakes District. Hadlow writes so convincingly in Austen's voice and her portrayal of all the familiar characters is authentic. I do have a slight quibble with Mr Collins but I'm prepared to let this minor character's new temperament slide.
It inspired me to watch both the BBC version of Pride and prejudice with Jennifer Ehle and Colin Firth, and the movie with Keira Knightly and Matthew Macfayden. Really, who needs to go out?
And I guess I could go back and reread all the Austen books. My grandparents gave me a hardback copy of Austen's novels – one big volume – when I was a teenager. I still have it, but I bought myself a beautiful pale blue and gold box set of Austen's novels a while ago so I would not give myself repetitive strain injury while simply reading!
So, really, with all this Austen goodness available, who needs to go out? Let me know, are you an Austen fan?